As we are in the midst of the blockchain era, many believe that cryptocurrency could be the next frontier in the world of finance. An ICO or Initial Coin Offering is a new way for companies to raise funds or capital through cryptocurrency.
Companies launch a digital coin or a token and sell it to investors in exchange for the cryptocurrency, usually Bitcoin or Ether.
Launching an Initial Coin Offering (ICO) can be the key to success for the crypto platform.
Read this complete guide to understand how to launch an ICO successfully.
An ICO Launch Process is categorized into four stages:
a. Preparation
b. Pre-ICO
c. ICO
d. Post-ICOHere's a step-by-step process to assist you in launching an ICO: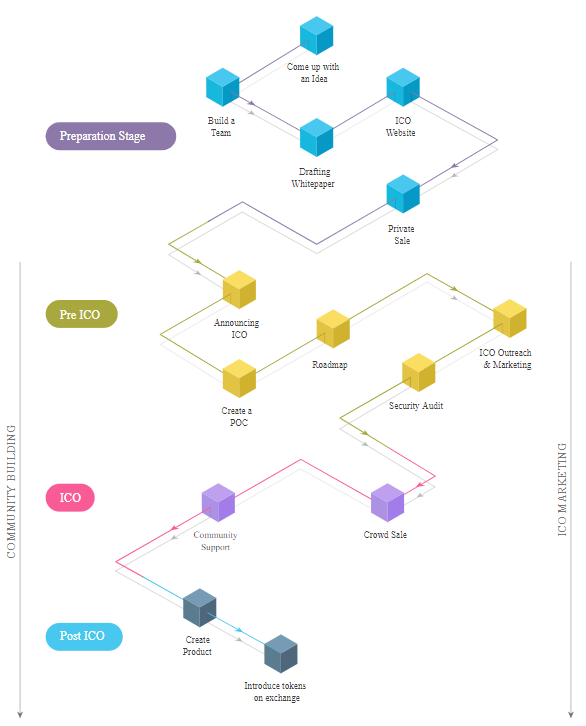 a. Preparation:
1. Come up with an idea and make sure it fits for an ICO
If you want your ICO project to be successful, there is a need to understand the market needs.
It is essential to ensure that your project should be objectively better than what the competitor is offering.
Therefore, coming up with a plan based on your experience, belief, and understanding is a simple process.
But the execution is going to be more important than the concept itself.
Typically, most of the ICO projects are based on blockchain technology. It is not necessary that your product or service should be on the blockchain, but that has been the theme for some time now.
Not every idea is a good fit for an ICO. People investing in ICOs, crypto investors, are a global audience. If your idea is not going to be global, then you may not be a good fit for an ICO.
Some ideas on blockchain project that did successful ICOs are:
NXT – Blockchain as a service platform. Market Capital- $150M
NEO – China's first digital coin and also called as China's Ethereum. Market Capital – $3.6B
Ethereum – An open-source public blockchain-based platform, sold for $0.31 and has reached the value of $1000. Market Capital – $61B
Hold on; not all the ICOs are worth billions of dollars.
There are over 1600 coins in the market. Most importantly, the majority of the ICO tokens are based on the ERC-20 standard, which ends up converting all the token values into Ethers.
Here are some factors, which may justify a good product idea for ICO:
The product could be decentralized.
It could use the blockchain technology for development.
There could be multiple parties involved but not just a single company.
The product should have potential and a roadmap to go global.
Easy to explain and everyone could understand the value the platform is creating
Strong reasons for both demand and supply of tokens which will be used in the ecosystem of your platform.
One day, if you decide to stop working on it, someone else can take over.
Note: Above is not a finite list, they are just an indicator, you may have the next brilliant idea, and it can do well in ICO.
In a startup world, you may come up with an idea and start working on it. However, in the ICO world, you will need to do the much more due diligence of having a deep understanding of the market, identifying the targeted audience for the platform, competitor analysis, etc.
Also, look for similar ICOs on websites like ICOBench and TrackICO to get an idea on how much to raise, what is the value for initial coin offering, etc.
Once you have a firm understanding of the idea, it is time to put it into a whitepaper format.
2. Draft a whitepaper
A whitepaper is a selling proposal which explains every aspect of your idea.
From market analysis to the objective of project, development strategy, technology architecture, information on the token, token distribution, legal issues, a description of your token, crowdfunding, early advisors, and investors, a whitepaper should cover every section to state why an investor should invest in your project.
It is a technical document which could be as long as you want but should give the investor valuable information about the project.
Maybe, not every investor will read through a detailed description of your project. It could be possible that only ten people will read the entire paper.
Therefore, you need to satisfy those ten people who read the whitepaper as they can bring some serious investments to your project.
Consider hiring a professional writer or editor who understands how to write a whitepaper and the technology you are going to work on.
Following tips can help you draft a good whitepaper:
Ensure to give a brief introduction to the problem you are addressing and how can your solution solve them.
Do not forget to mention the primary audience who will be benefited from the proposed solution.
Talk about the current market and mention specific statistics.
Present a compound solution which contains an understandable description of how your project works.
Give detailed information on the token operating system and its distribution throughout the ICO.
Introduce the team of experienced professionals with their social media profiles.
Make sure to describe the project and its development strategy.
Here are the links to some of the good whitepapers:
Once you complete the first draft of your project, gather a core team and contact the advisors.
3. Build a good team
Building a good team is the crucial task after coming up with an idea.
Gather a team of members who have core knowledge of ICO and reach out to advisors. You need experts from different fields to run a successful ICO.
While building a team, make sure to look out for an accounting expert, crypto expert, marketing experts, experienced developers, and legal advisors.
To ensure you are hiring a right team, figure out what they did before and confirm if they hold experience in leadership or not. Also, assure if they have worked on any ICO project or not.
With a team of experts, it is possible to approach good players in the ICO market, attract reputed investors, and build the product early in the process.
Once you have built a team, start consulting the legal experts before introducing ICO in the market.
4. Get an opinion from legal experts
Associating yourself with professional and experienced legal advisors is essential. Since ICO and cryptocurrency are new domains in the market, you may not easily find the professional lawyers.
Go through the ICO listing websites and find the legal advisors engaged in top ICOs. Contact a few of them and explain your project to them.
If your legal expert approves the token, do not forget to ask about the procedure to sell tokens in the countries where it is considered illegal. Get answers to all your legal questions before proceeding further.
Now, you need a website where you can demonstrate your project and make tokens available to the public for sale.
5. Launch a website
Launching a website is essential for introducing your token to future contributors. Make sure to create a good website which should load fast and run securely with DDoS and hosting protection.
Also, look for some sample websites which are impressive and look similar to your project.
The website designed for ICO should have a link to the whitepaper, the token sale structure, background of the team members, and a demo video of how the project will work.
The team section on the website should contain names, photographs, brief biographies, and the web links to their social networks like LinkedIn.
Here are some tips which may help you create a high converting website for ICO launch:
Explain your project:
Since it is your ICO website, include the relevant details like what are you going to build, benefits to different users, how it works, a roadmap for product development and token distribution structure.
Include visuals:
People visiting your website may not have enough patience to go through a long text. So, always include some creative visuals that give the crisp information about your project to the users.
You should add demo videos, infographics for the roadmap, and a pie chart to explain the token distribution structure.
Add Contact Button:
People coming to your website might have some queries. Make sure to add a "Contact Us" button at the bottom or top-right corner of the website. This tactic will help you build the lasting relationship with your audience.
Hire professional designers to let your ICO website stand out.
6. Crowdfunding
Crowdfunding is a way to raise the capital through the combined effort of family, friends, individual investors, and customers.
Traditionally, if someone wants to raise funds for starting a new venture, they have to prepare themselves for market research, business plan, and prototypes. You cannot directly jump to a market of wealthy individuals or institutions.
Therefore, you first need to limit your options to a few market players.
Every crowdfunding campaign includes parameters like min cap, max cap, token allocations, what happens to unsold tokens and campaign duration. If min cap is found to be 1% of the max cap, the project may not look serious to the audience.
Also, ensure that if the campaign cannot raise the min cap, you might have to return the money raised to contributors.
Keep in mind to inform contributors about that can happen to unsold tokens.
Here's how crowdfunding could benefit your ICO project:
Reach:
Using different platforms like StartEngine, Fundable, Ketto, etc. can help you reach thousands of accredited investors who can interact with you and share your fundraising campaign.
Efficiency:
Crowdfunding could streamline and centralize your fundraising efforts by building a comprehensive profile to reach the potential investors in the market.
Traction:
By offering rewards to the individual investors in exchange for marketing your ICO on the social media can help you gain a lot of traction.
Once you raise funds through crowdfunding, it is time to move to the Pre-ICO stage where you have to announce an ICO to the world, create a Proof of Concept, prepare a roadmap for the product, perform outreaching and marketing activities and create tokens for sale.
b. Pre-ICO:
1. Announce your ICO
Over the last one year, new websites have been designed to list ICOs with ratings and enable its members to review the performance of the listed ICOs.
Announce your ICO on those listing websites with relevant information about the team, milestones, link to the whitepaper, and token distribution.
Here are some websites where you can list your ICO and reach the top investors in the market:
Another way to introduce the ICO is to run ad campaigns and email marketing campaigns for gaining a lot of traffic to their project. While announcing your ICO, you should have a demonstration of what you are going to do and what is the utility of a token.
After the ICO is announced to the market, you should focus on the proof-of-concept to let people have an overview of your project.
2. Create a Proof of Concept (PoC)
A Proof-of-Concept is required to demonstrate the potential and feasibility of any project. A PoC can either be a Minimum Viable Product (MVP) with bare minimum feature set or visual prototype without any supporting code.
While going through the PoC process, you will have to focus on the main business problem and resist yourself to build something more significant than what you need.
For creating a PoC, you need to go through three development stages: Theoretical build-up, Prototype, and MVP.
Theoretical Build-Up:
Every project should have precise theoretical cases to make your project understandable to the potential end-users. Create a set of instances which explain every aspect of the project.
Prototype:
After the theoretical cases are prepared, you should emphasize building the working prototype, containing sketches, information architecture, mockups, code, and tested product.
MVP:In this stage, you need to create a product with minimum viable features to test the hypothesis of the product and check its feasibility.
After the proof-of-concept is created, you should come up with a specific timeline for the product development.
3. Roadmap for the product
A roadmap for the product includes the timeline for the project including Alpha release, Beta release, Public release, and future milestones.
During the alpha release, a product is released with a full feature set to be tested by an internal team while it is released for external testing during beta release.
Once the product is developed and tested, it gets ready for the public release.
After preparing a roadmap for the product, there is a need to focus on the token creation for a successful ICO launch.
4. Token Creation
Token Creation is the core stage of an ICO launch. The tokens you create will help your business to survive.
Before you build tokens, you need to understand how many tokens you want to issue and raise, and how many to sell during Pre-ICO and Crowd sale.
You can use platforms like Neo or Ethereum to create the tokens without the need of building a blockchain from scratch.
A computer program called smart contract controls the sales of token which allows the transfer of digital assets between specific parties under certain conditions.
If you do not belong to a technical background, consider hiring a team of smart contract development professionals.
Creating tokens is not enough, you need to make sure that your ICO platform is secure and implements all security standards.
5. Security of ICO Platform
Development of the smart contract follows specific rules including security protocols. Local servers or Cloudflare cannot isolate a crowd sale contract as various publicly available tools can also access smart contracts.
Anyone with the technical skills and your ICO contribution address can interact with it directly through your website. Therefore, a crowd-sale smart contract should be built to defend itself from attacks.
Get in touch with security experts who can deal with the website and network security to keep the platform secure.
Once the tokens are created, start growth hacking and marketing activities to influence the audience and to meet the capital requirements.
6. PR and ICO Marketing
Promoting your ICO is essential to establish trust and find the right crypto influencers for your business. Make sure you have a substantial amount of money for marketing activities.
Cost for paid information listing can start at around $400 and go up to a virtually infinite number. Running paid ads like Google ads and forum ads can give you a decent user-base of potential investors.
Just like designing the website, planning a PR campaign is vital to gather the capable investors for your project.
Consider where and how will the audience get to know about your project and how will you present it to them. Utilize email marketing campaigns, social media marketing, and various other marketing campaigns to outreach investors and media.
Moreover, Quora is a valuable channel that can help you engage the users by answering questions to their answers. Also, a specialized forum like Bitcoin Talk is widely used by the crypto community and is an excellent source of exposure for your ICO.
Having your channel on the platforms like Telegram or Slack may also help you stay connected with the potential investors.
Investors present on these channels can interact with the project's team and founders. Monitor communication platforms at all times and answer questions raised by clients in a timely way.
After announcing an ICO, creating tokens, and outreaching the targeted audience, you are all set to launch an ICO and start crowd sale.
c. ICO:
1. Crowd Sale
The crowd sale is the core of an ICO project. It is a step where a company sells its tokens to the public in exchange for making money.
Create a sign-up option on the website where investors can register to purchase tokens either for your project or in exchange for other cryptocurrencies like Ether or Bitcoin.
Just like pre-sale, you can create reward campaigns and other incentivized programs for the crowdsale which attracts the investors and gives you a massive exposure in the market.
While selling your tokens, you should also provide community support services to the audience to keep them up-to-date with ICO activities.
2. Community Building and Support
As soon you as you launch an ICO, you should build a community to offer support on different crypto forums and social media platforms and respond to customer's queries related to your project.
Set up an emergency helpline number for the clients to contact you anytime they confront an issue. Creating a community can also help in boosting up the token sales.
Moreover, community building is a crucial step in keeping the targeted audience updated to your project.
After the crowd sale ends, start building a product which is the foundation of every ICO project.
d. Post-ICO:
1. Create a product
It is a crucial step that no one should ignore while launching an ICO. Though a product can be built after launching the digital token, spend your valuable time on making a scalable, secure, and robust product on the blockchain.
Ensure to follow the roadmap you have created for the product development as many investors will be waiting for the product release as per the provided timeline.
You should have a product which utilizes the launched tokens. Hire a team of blockchain development experts if your ICO project is based on the blockchain.
2. Introduce your tokens on Exchanges
Once you have created a token, marketing strategy, and built a product, introduce the tokens on ICO exchanges.
Any member of the exchange can buy or sell your tokens on the open market. While introducing tokens on ICO exchange, make sure to submit a request with following attributes-
Token Name
Token Logo
Token trading symbol
Github link
Compliance fee (optional)
Description of Project and Token
Link to the website
Source Code reviewed by the trusted third party
After the successful launch of ICO campaign, you should not sit back but carry on the marketing activities to outreach the potential investors.
Through ICOs, companies can raise funds by creating their cryptocurrency and product. But remember, success never comes overnight. You have to work harder to meet your goals.
Therefore, we have prepared this comprehensive guide for entrepreneurs and innovators which could help them launch an ICO successfully.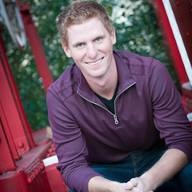 Ethan Moore, crypto and stock trader since 2012. Co-founder of Blockwatch experts team.